About Us
Diane and I have been Ballroom and Latin American dancers for over 40 years and we met whilst learning to dance in the late 1970s. I became a ballroom DJ over 30 years ago, running my own public tea dances and evening ballroom dances. Growing up in a dancing family listening to ballroom dance records I soon learned that good music is essential for an enjoyable dancing experience. My flair for recognising and playing excellent good tempo dance music has produced many opportunities to run ballroom dances in London, Hatfield, Letchworth, Hitchin, Bournemouth, Brentwood, Folkestone, Brighton and Essex. I can provide the full range of strict tempo Ballroom and Latin, plus Sequence, music and can cater for a wide range of ages and abilities.
I'm currently one of the two resident DJs who host the "Big Weekly Monday afternoon Tea Dance" at the Brent Civic Centre, where we get a regular attendance of 80+ people every week. I also host Sunday evening dances for the Sunday Dance Club in Hertfordshire and the free monthly tea dances run by the Southbank Centre at the Clore Ballroom in the Royal Festival Hall. Alongside all this, I run private ballroom events for corporate or celebratory functions; run my own social Saturday night dances in West Wickham and monthly Saturday tea dances at the Brentford Music Museum, Kew, preceded by a ½ hr dance lesson. I also DJ for Age UK, providing classes and music for their tea or evening dances at various venues, including two tea dances co-hosted with Len Goodman the former Age UK Ambassador, to promote dancing as a positive and healthy activity for older people. Similarly, we attended an Early Stage Dementia Awareness Workshop run by Arts4Dementia, to understand and recognise how music and dance can engage and assist people suffering from dementia and their carers, in a positive activity.
Our new venture since December 2019 is teaching and hosting on P&O, Fred Olsen and Saga cruise lines out of the UK, with dance classes during the day and hosting the nightly pre- and post-dinner dance sessions for passengers - so we are now taking all our skills international! If you want to join us for a fun time on the waves, see our Cruise List, right.
So what else have I done?
I've had a wide and varied career as a Ballroom DJ including as the resident DJ for the Sunday afternoon weekly tea dances at Café Society, just off Leicester Square for nearly two years until December 2001. I have also DJ'd at the Camden Centre, Bourne Hall Epsom, Battersea Town Hall, Blackheath Halls, the De'Havilland Club in Hatfield and the Alexandria Suite Swanley and provided fortnightly Friday evening social ballroom & Latin dances at Bourne Hall, as the resident DJ. For 7 years and sometimes twice a year, I hosted an annual dancing weekend at the Wessex Hotel in Bournemouth for a professional dance teacher and her school, which continued until she retired.
I successfully ran an evening buffet dance at the Crofton Halls, Orpington for Bromley MyTime and have hosted my own 'Black Tie Lunch and Dances' at the Alexandra Suite, Swanley. Diane and I also hosted a dance weekend with Anton du Beke and Erin Boag in Wroxall, Solihull requiring us to teach basic dance steps to the beginners on the first night. We then went on to join in the daytime dance classes with Anton and Erin and partner some of the beginners who didn't have partners. As we can both now dance as "leader" we often partner single ladies and have done so many times at tea dances and on cruises, which ensures that solo dancers can take part and enjoy our music in the same way as couples.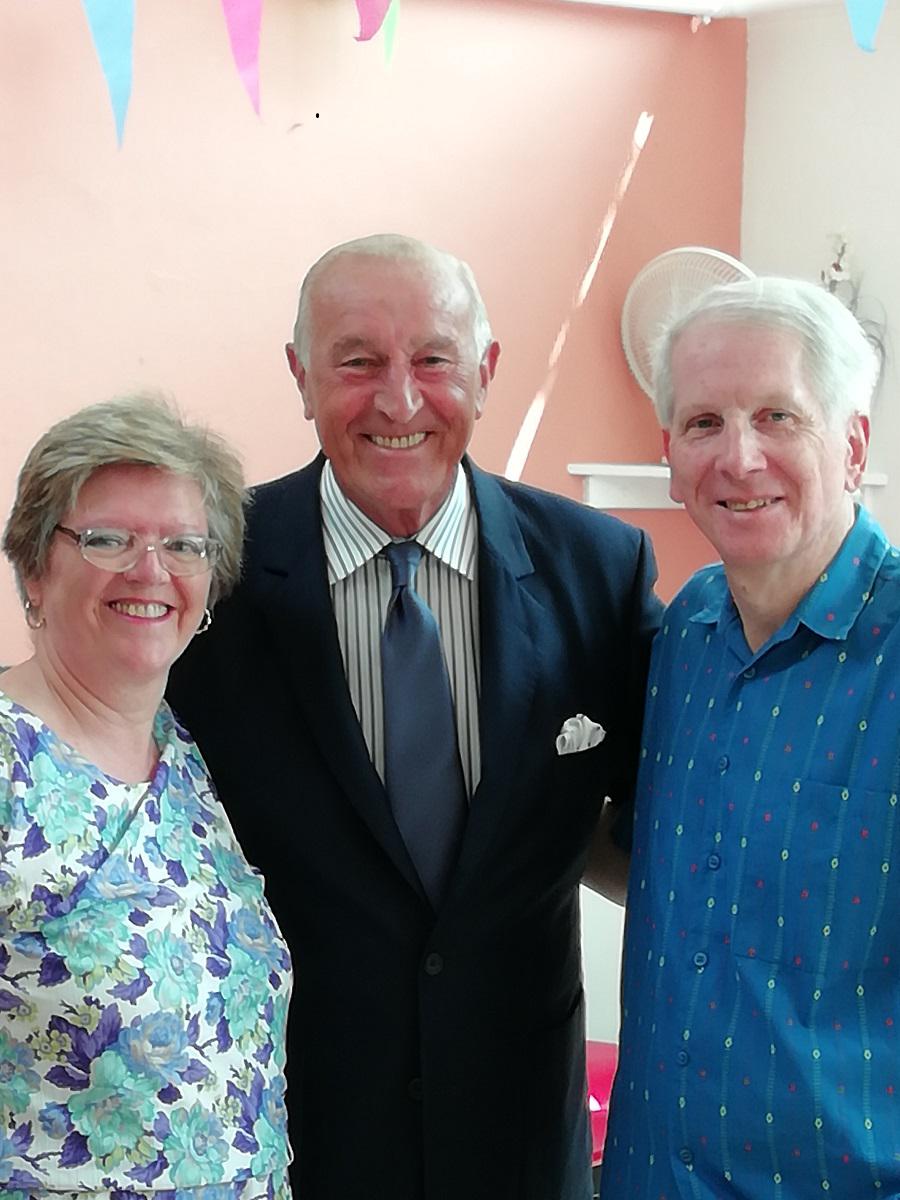 With Len Goodman, Age UK Tea Dance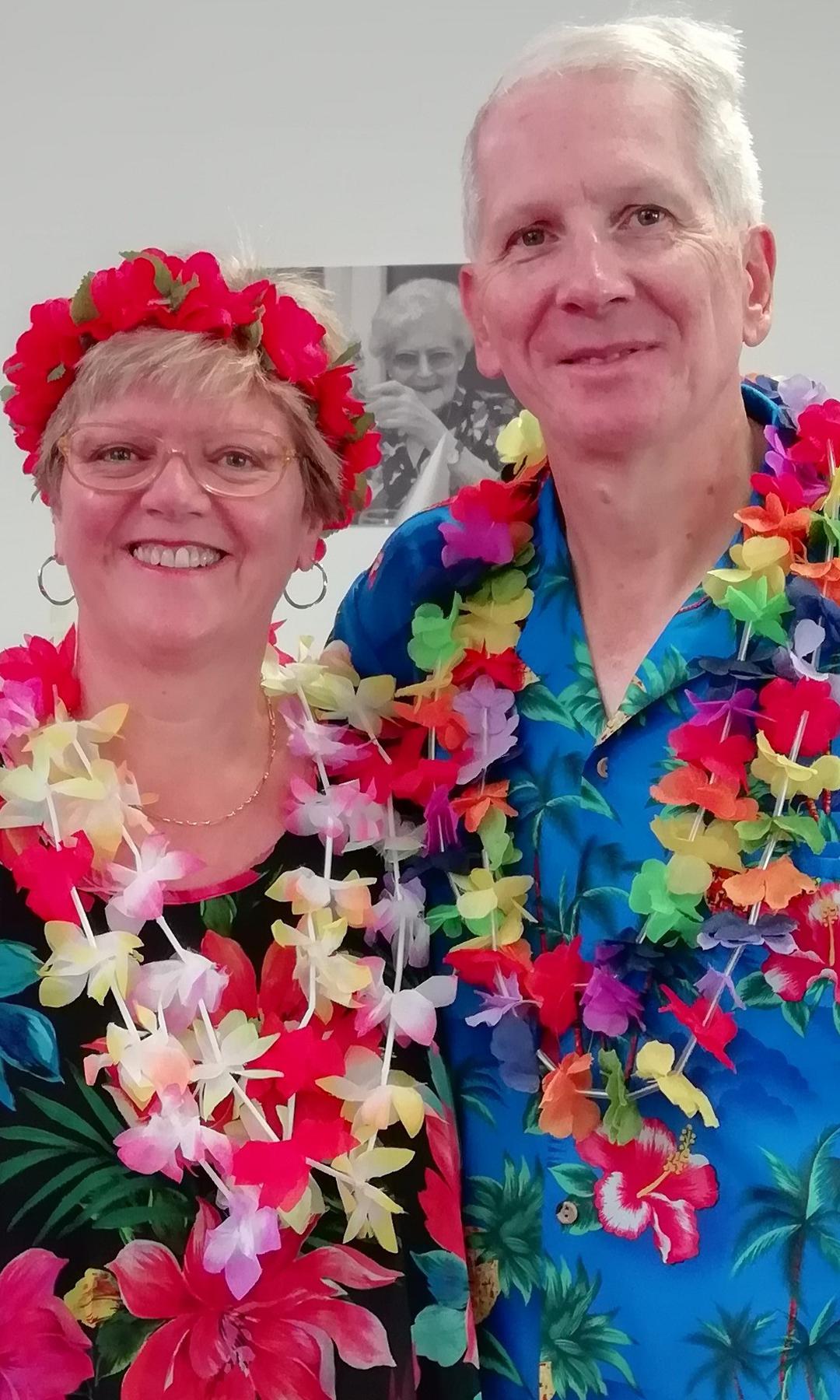 Tropical Party Age UK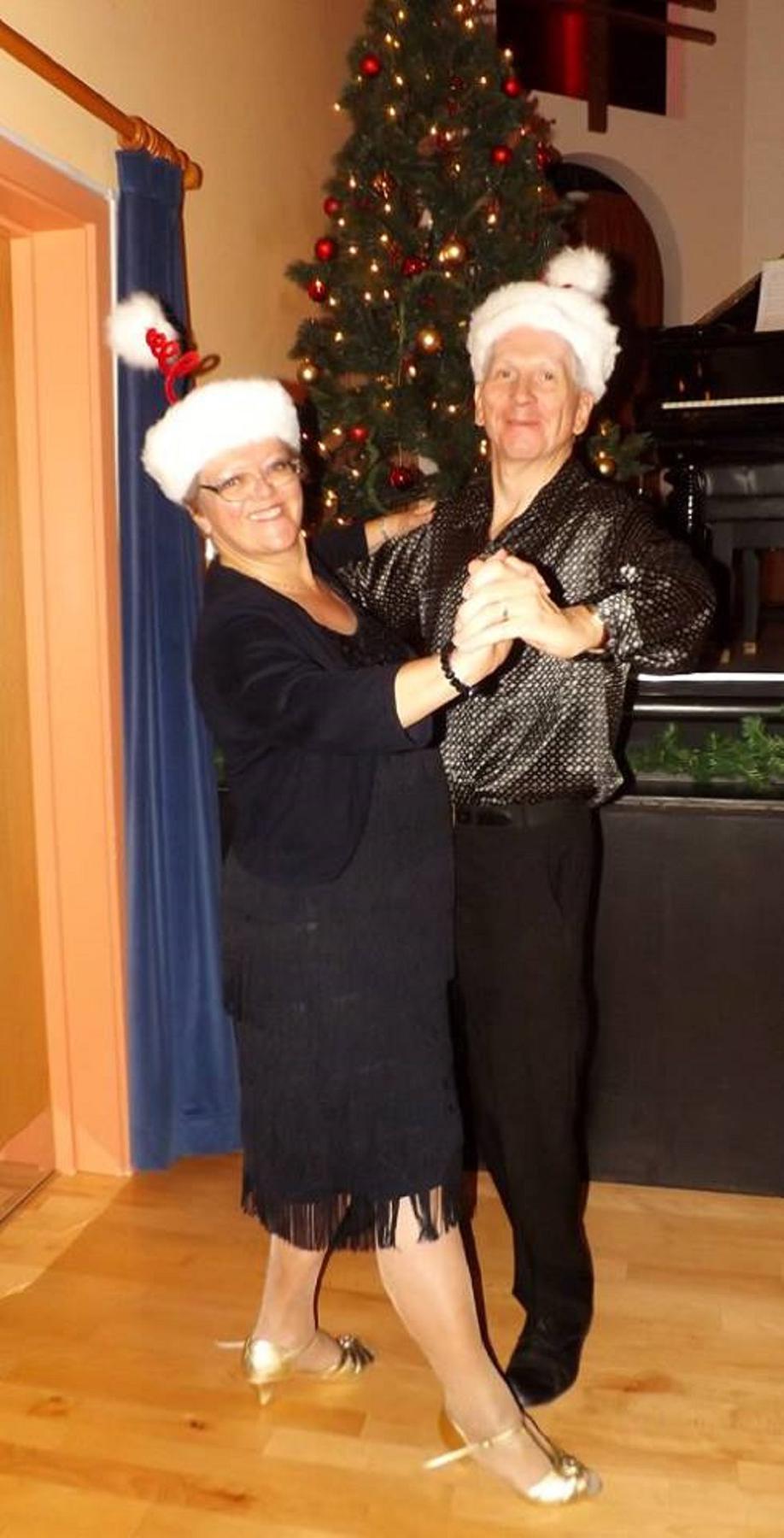 Christmas Tea Dance Brentford Music Museum
More than dancers......
For our own continuing professional development we decided to formalise our many years' dance experience by training for the Imperial Society of Teachers of Dancing (ISTD) Associate Teaching Qualifications with Nicky Miles, FISTD to add tuition to our portfolio. We passed our Associate Exams in Modern Ballroom and Latin American so we are now professional dance teachers. This has opened up further opportunities for us to combine our love of dancing with the confidence to teach and widened the range of dance activities we can provide to current and new customers as mentioned above. Also, as we can both now dance as "leader" we often partner single ladies and have done so many times at tea dances and on cruises, which ensures that solo dancers can take part and enjoy our music in the same way as couples. We make sure that no-one is left on their own and a good time can be had by all!